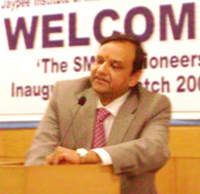 Interaction with Shri Manoj Gaur Ji (Executive chairman)
JBS ,had a very momentus day on march 03, 2008 when the Executive chairman ,Shri Manoj Gaurji, paid a Grand visit for the summer internship placements. Sir addressed the students for approximately two hours and the students were totally mesmerized and spellbound by the very simple yet eloquent persona and kind words of the Leader of the group.
Other dignitaries who graced the occasion were Dr.Yaj Medury, Senior President HR, Jaypee group,Mr.HS Sangha, Dr.JP Gupta, Vice Chancellor JIITU, & Members of the Supervisory Committee. A Well crafted presentation about the various components of the Vast Jaypee group (of which we are so proud to be a part of ) ,their functions and performance was narrated by Shri Gaurji in a very lucid manner,by giving excerpts from the trial and tribulations witnessed in his career in Jaypee right from the age of 20 and a half years. The students took the best out of this outstanding session by asking a number of pertinent questions which were beautifully answered by taking a lot of interest by the Honourable EC. Our students were over awed by the heart to heart discussion they could have with honourable EC.