Interaction with Shri Jai Prakash Gaur ji (Founder Chairman)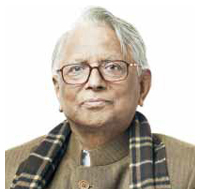 Honourable Founder Chairman Shri Jai Prakash Gaur ji addressed the JBS students on Saturday, 16.01.2010.
Taking the glimpses from his life he emphasized that each student must have a goal in life and strive hard to achieve it as 'no dream is too big'. He explained the meaning of being a professional. He suggested that "Professionalism in its true sense means doing everything to the best of your ability" and there are four steps to accomplishment: Plan purposefully, Prepare patiently, Proceed positively and pursue persistently.
He also talked about ability and perseverance. "What makes men great is their ability to decide what is important, and then focus their attention on that It is a fine thing to have ability, but the ability to discover ability in others is the true test of leadership" and "Enthusiasm is the propelling force necessary for climbing the ladder of success".